Divorce Lawyer Thomas P. Jackson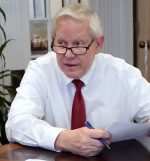 Divorce Lawyer Thomas P. Jackson
Your Strong and Supportive Dallas Divorce Lawyer.
Thomas P. Jackson has practiced as a divorce attorney since 1982. His long experience and his hands-on personal service qualify him to be your strong and supportive divorce lawyer in Dallas TX.
Early in his career Mr. Jackson litigated many Federal Income tax matters. His background in accounting, taxes and other financial matters gives him a distinct advantage over other Dallas attorneys. Focused on directly serving his clients, Tom devotes all his time to resolving divorce problems.