Philadelphia Workers' Compensation Lawyers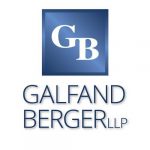 Philadelphia Personal Injury Lawyers Helping Injured People Since 1947
Over 70 Years of Helping Injured People
What happens when you or a loved one is injured at work, hurt in a car accident, suffer a medical mishap or harmed by a defective product? Injuries from these accidents have life-altering consequences. Your health, your job, your family, and your security are all at risk.
For years, your rights have been under attack by big business and insurance companies. They have used slick campaigns in an effort to convince the public that there are frivolous lawsuits, runaway juries, and a civil justice system in need of reform.
And, too many people have bought into this corporate spin. All the while, your rights as an accident victim, worker and patient slowly erode. You need a law firm for some of life's toughest challenges. Galfand Berger helps injured people. We have been doing it since 1947.
It is our firm's privilege to help restore dignity and security to people hurt because of automobile accidents, defective products, unsafe equipment and machinery, work place and construction accidents, workers' compensation claims, medical malpractice and any other serious personal injuries or accidents.
Galfand Berger attorneys are relentless advocates for our clients. Every case is unique, and the outcome always depends upon the particular circumstances of the incident, that is why our firm will leave no stone unturned as we fight tirelessly on your behalf.
We approach each case with the integrity, skill, and compassion our clients deserve and it shows in our results. Galfand Berger has obtained more than a quarter of a billion dollars in settlements in the past decade alone.