Evanns Collection Law Firm
Return to Directory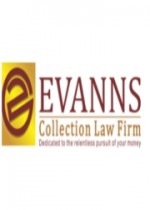 Evanns Collection Law Firm is Los Angeles based law firm focusing on judgment collection
The Law Offices of Richard O. Evanns is a law firm focusing on judgment enforcement and dedicated to representing creditors as aggressively as the law allows in judgment collection and general collection matters.
$0 Upfront, Free Consultation!
Services offered:
• Judgment Enforcement and Collection in California
• Spousal Support Enforcement
• Collections, Pre-litigation, Litigation and remedies
• Judgement Domestications and Sister State Judgments
We handle all Judgment Collection cases throughout the state of California.
Company History:
Established in 2011.
The law Offices of Richard Evanns was founded by attorney Richard Evanns. Prior to that, Mr. Evanns owned Enforcements ETC (Est. 2009), a judgment collection company specializing in enforcement of judgments.

Through his judgment enforcement company, Richard Evanns satisfied hundreds of thousands of dollars of judgment debt for creditors, enforcing judgments against major insurance brokerage firms, real estate tycoons, and even a billionaire senatorial candidate.

Now a full service law firm, the law offices of Richard Evanns proudly continues the previous tradition of providing collection services, for no upfront cost to clients.
Meet the Business Owner
Richard Evanns is a graduate of a top law school, a registered process server, a member of the California Association of Judgment Professionals, Los Angeles County Bar Association, Remedies Section, Consumer Attorney Association of Los Angeles and the CA Receivers Forum. He is one of the most respected people in the local judgment enforcement profession. He has also had articles published in national publications, multiple speaking engagements, and is also an ex-professional poker player. 

Last but not least, he actually picks up his phone, so feel free to call him, and he will not only look into your judgment free of charge, but may very well tell you some colorful stories while he's at it.