Missouri DWI & Criminal Law Center at Benjamin Law Firm, LLC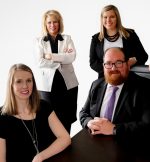 We fight for your freedom when the government wants to take it from you.
We are trial lawyers who are known by the judges and prosecutors to fight for you and win more acquittals and dismissals than other law firms. We fearlessly and relentlessly help you take your life back and not have this legal issue ruin your life. We are trained at the Gerry Spence Trial Lawyers College, where our founder Kim Benjamin is on the faculty. That training teaches us how to win cases for you. Kim does not only teach lawyers how to try cases, but she is a teacher at the National College of DUI Defense and is the chair of the largest DWI seminar in Missouri. Her expertise in criminal and DWI defense is sought after by lawyers and clients alike.