Trial Pro, P.A. Orlando Car Accident Attorneys
Return to Directory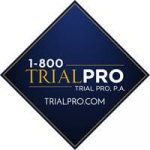 The trusted Law Firm for victims of personal injury and car accidents in Florida
Trial Pro, P.A. represents Floridians in a range of personal injury legal matters. Our practice areas include all kinds of injuries; car accidents, motorcycle collisions, wrongful death claims, slip-and-fall injuries, 18-wheeler collisions, construction accidents, and worker's compensation injuries. With offices in Orlando, Tampa, Melbourne, Naples and Ft. Myers Trial Pro, P.A. delivers strategic advice and counsel to clients in areas such as Apopka, Daytona, University Park, Kissimmee, Sarasota, Clear Water and all over Florida. Call our firm for a free of cost and confidential assessment of your case.
Our quest is to make it easy for our clients to sit back and prioritize recovery, understanding that the legal professionals at Trial Pro hold the knowledge and assets to adequately address all the judicial particulars associated with their litigation. Our firm keeps our clients updated on the status of their case throughout each step of case proceedings.
As a company, Trial Pro, P.A. is client-centered. We take great pleasure in being a trusted option for victims of personal injury throughout Florida and perform to sustain our record of success. We take a hands-on standpoint on each of our clients' cases and leave no stone unchecked in our pursuit of justice on their behalf.
To speak to an accident attorney at law - Contact us at (800) 874-2577 for a no-obligation evaluation concerning your injury lawsuit.
No Fees or Expenses Unless You Win
At Trial Pro, our car accident attorneys work on a contingency fee basis. That means we cover the costs of reviewing, constructing, negotiating and litigating your lawsuit. We do not bill you a single thing unless our lawyers recover compensation on your behalf.
If we don't win your lawsuit, you will owe us nothing.
Our injury lawyers also provide complimentary consultations to assess the elements of your case and determine if you have a suit. Set Up a Free Examination
If you or someone you love has been impaired due to someone else's negligence or carelessness, you need a renowned attorney on your side who is familiar with the statutes and laws in Florida.
Our personal injury attorneys are skilled in tort litigation and have been acknowledged by our peers for our victories. A few of our lawyers have been listed as Super Lawyers and prestigious litigators for their success on behalf of our clients.
We have recovered desirable judgments and compensations that were instrumental in enabling our clients to recover from their injuries or the loss of a loved one. Let us help you recover the max amount of compensation you deserve for your injuries.
Following a serious auto accident, wreck, or other injury-causing events, victims and their loved ones are normally faced with serious bills and an unsettled foreseeable future. During this time, the legal professionals and staff at Trial Pro work tirelessly to deliver effective legal support and representation that advocates for the best feasible result on each client's behalf. Our expert Brevard County personal injury law firm has a record of successfully pressuring our defendants into settling the majority of our litigations for optimum compensation, without a trial.